1st Domino World Championship 1995
Anne Marie Hartvigsen is Domino World Champion 1995!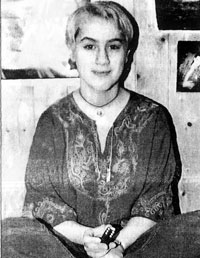 On Saturday, 30 December 1995, the first decentralised Domino World Championship took place. A total of 40 participants played at 3 locations in Switzerland and one each in Norway and Germany for the world championship title, which was awarded for the first time and surprisingly won by the young Norwegian woman.
The coverage of the Norwegian press therefore also celebrated Anne Marie Hartvigsen's victory exuberantly.
For this, a commentary by the Swiss domino trade paper »Schwarzes Auge«:
»VG«, the national tabloid of the fjord state, considered AnnHar's triumph as a national victory. Under the headline »The best in the domino« it says:
Wrong: The fatherland is hurtling into the new year in full swing. Now Norway has also won the world title in dominoes. Anne Marie Hartvigsen (18) from Luster surprisingly won the title on Saturday.
Right: AnnHar grew up in Luster, but does not live there now. She won the title, not Norway, certainly not any fatherland. Dominoes is not a game for nationalists (did you know that of the top ten in the world rankings, nine places are occupied by Swiss players?).
Game Results
40 participants in this world cup
| Rank | Name | World region | FLADUB | World ranking position | Match date | Venue |
| --- | --- | --- | --- | --- | --- | --- |
| 1 | Anne Marie Hartvigsen | | 498 | 137 | 30.12.1995 | N |
| 2 | Monika Ackermann | | 457 | 30 | 30.12.1995 | Basel |
| 3 | Ingrid Lovise Færøyvik | | 386 | 56 | 30.12.1995 | N |
| 4 | Christine Ziegler | | 377 | 0 | 30.12.1995 | |
| 5 | GM Frank Lindemann | | 374 | 5 | 30.12.1995 | |
| 6 | GM Annette Rentsch | | 369 | 11 | 30.12.1995 | CH |
| 7 | GM Patrick Rentsch | | 364 | 8 | 30.12.1995 | CH |
| 8 | Marÿke Oldenhage | | 362 | 28 | 30.12.1995 | Grenchen |
| 9 | Marina Carletto | | 349 | 81 | 30.12.1995 | Bramsche |
| 10 | GM David Bader | | 349 | 17 | 30.12.1995 | Grenchen |
| 11 | Theres Meyer | | 349 | 34 | 30.12.1995 | Grenchen |
| 12 | GM Walti Bader | | 341 | 4 | 30.12.1995 | Grenchen |
| 13 | Siefko de Buhr | | 336 | 93 | 30.12.1995 | Grenchen |
| 14 | Brigitta Albisser | | 328 | 0 | 30.12.1995 | CH |
| 15 | Sigrid Sagevik | | 320 | 213 | 30.12.1995 | N |
| 16 | GM Ulrich Bönkemeyer | | 318 | 21 | 30.12.1995 | Grenchen |
| 17 | Jutta Schenck | | 317 | 33 | 30.12.1995 | Grenchen |
| 18 | GM Alex Klee | | 317 | 1 | 30.12.1995 | CH |
| 19 | GM Irène Bader | | 311 | 2 | 30.12.1995 | Grenchen |
| 20 | GM Felix Rentsch | | 306 | 6 | 30.12.1995 | CH |
| 21 | Andreas Dierks | | 296 | 35 | 30.12.1995 | Bramsche |
| 22 | Reto Krebs | | 296 | 133 | 30.12.1995 | Grenchen |
| 23 | Tobias Würsch | | 294 | 0 | 30.12.1995 | Grenchen |
| 24 | Rüdiger Neukamm | | 291 | 177 | 30.12.1995 | Grenchen |
| 25 | | | 274 | 45 | 30.12.1995 | N |
| 26 | Florian Würsch | | 268 | 103 | 30.12.1995 | Grenchen |
| 27 | Pucki Neukamm | | 260 | 0 | 30.12.1995 | Grenchen |
| 28 | Irène Steiner† | | 248 | 36 | 30.12.1995 | Grenchen |
| 29 | Lukas Dierks | | 232 | 47 | 30.12.1995 | Bramsche |
| 30 | GM Sandra Reichardt | | 217 | 14 | 30.12.1995 | Grenchen |
| 31 | Malin Oestreich | | 217 | 50 | 30.12.1995 | Bramsche |
| 32 | Luzia Würsch | | 214 | 24 | 30.12.1995 | Grenchen |
| 33 | Fiona Bader | | 208 | 40 | 30.12.1995 | Grenchen |
| 34 | Urs Ackermann | | 191 | 37 | 30.12.1995 | CH |
| 35 | Paul Klee | | 178 | 42 | 30.12.1995 | CH |
| 36 | Olivier Loetscher | | 177 | 46 | 30.12.1995 | CH |
| 37 | Mattis Dierks | | 175 | 76 | 30.12.1995 | Bramsche |
| 38 | Andrea Krebs | | 170 | 111 | 30.12.1995 | Grenchen |
| 39 | Lars Erik Baugstø | | 151 | 159 | 30.12.1995 | N |
| 40 | Hagen Zandt | | 112 | 0 | 30.12.1995 | CH |
Rank
Name
World region
FLADUB
World ranking position
Match date
Venue
1
Anne Marie Hartvigsen


498
137
30.12.1995
N
2
Monika Ackermann


457
30
30.12.1995
Basel
3
Ingrid Lovise Færøyvik


386
56
30.12.1995
N
4
Christine Ziegler

377
0
30.12.1995
5
GM Frank Lindemann


374
5
30.12.1995
6
GM Annette Rentsch


369
11
30.12.1995
CH
7
GM Patrick Rentsch


364
8
30.12.1995
CH
8
Marÿke Oldenhage


362
28
30.12.1995
Grenchen
9
Marina Carletto


349
81
30.12.1995
Bramsche
10
GM David Bader


349
17
30.12.1995
Grenchen
11
Theres Meyer

349
34
30.12.1995
Grenchen
12
GM Walti Bader

341
4
30.12.1995
Grenchen
13
Siefko de Buhr


336
93
30.12.1995
Grenchen
14
Brigitta Albisser


328
0
30.12.1995
CH
15
Sigrid Sagevik


320
213
30.12.1995
N
16
GM Ulrich Bönkemeyer


318
21
30.12.1995
Grenchen
17
Jutta Schenck


317
33
30.12.1995
Grenchen
18
GM Alex Klee


317
1
30.12.1995
CH
19
GM Irène Bader

311
2
30.12.1995
Grenchen
20
GM Felix Rentsch


306
6
30.12.1995
CH
21
Andreas Dierks


296
35
30.12.1995
Bramsche
22
Reto Krebs


296
133
30.12.1995
Grenchen
23
Tobias Würsch

294
0
30.12.1995
Grenchen
24
Rüdiger Neukamm


291
177
30.12.1995
Grenchen
26
Florian Würsch

268
103
30.12.1995
Grenchen
27
Pucki Neukamm


260
0
30.12.1995
Grenchen
28
Irène Steiner†

248
36
30.12.1995
Grenchen
29
Lukas Dierks


232
47
30.12.1995
Bramsche
30
GM Sandra Reichardt


217
14
30.12.1995
Grenchen
31
Malin Oestreich


217
50
30.12.1995
Bramsche
32
Luzia Würsch

214
24
30.12.1995
Grenchen
33
Fiona Bader

208
40
30.12.1995
Grenchen
34
Urs Ackermann


191
37
30.12.1995
CH
35
Paul Klee


178
42
30.12.1995
CH
36
Olivier Loetscher

177
46
30.12.1995
CH
37
Mattis Dierks


175
76
30.12.1995
Bramsche
38
Andrea Krebs


170
111
30.12.1995
Grenchen
39
Lars Erik Baugstø

151
159
30.12.1995
N
40
Hagen Zandt

112
0
30.12.1995
CH
These players were not on the world ranking list at the time of the championship:
Christine Ziegler (4), Brigitta Albisser (14), Tobias Würsch (23), Pucki Neukamm (27), Hagen Zandt (40)