26th Domino World Championship 2020
The FIDO Domino World Championship is held annually since 2012 in the period from 27 to 31 December (before that on a fixed day within this period). The games are played in decentralised locations where participants form groups of 5 people.
Alex Klee is Domino World Champion 2020!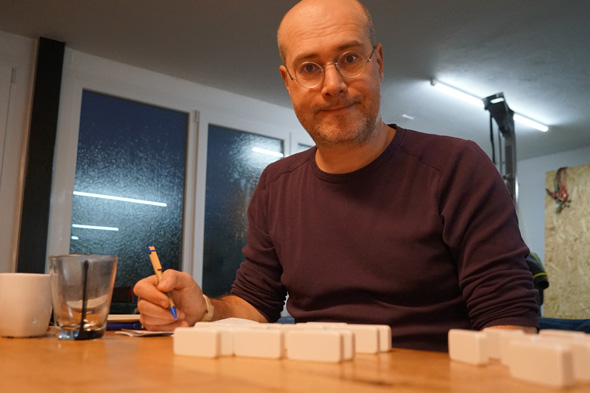 This year, even the number of participants suffered from the Covid 19 pandemic. Only 15 players managed to meet under the required safety precautions.
After all, all leading FIDO nations were involved: games were played in Norway, Germany and Switzerland.
Unfortunately, one round of players disregarded the rule on changing the seating arrangement. Due to the small number of participants, they were exceptionally not disqualified. Instead, they received a penalty deduction of 33 % on their FLADUB rating.
Since no German Championship (held every five years) could be held as a face-to-face event in 2020, the World Championship match from Germany was scored as a German Championship as a substitute.
The new German domino champion is therefore Markus Fleischer.
We warmly congratulate both title holders and thank everyone for their participation!
FIDO Northwestern Switzerland comments:
Super team performance at Ettingen venue!
The 2020 World Cup is history. And for the 5th time in the 26-year history of the World Cup, it has been possible to bring the title to the domino stronghold of Northwestern Switzerland. However, while the titans of domino sports MarDes (2006), AleJos (2007), ThoEge (2009) and ChrWäh (2012) had to prevail against great competition from all over the world, it was much easier to win the title this time given the small field of only 15 players due to corona.
After all, the three strongest nations – Norway, Switzerland and Germany – were there. And in this small but illustrious field – including two-time world champion Guðný Ósk Scheving, who had competed in Arendal, Norway – the Northwestern Switzerland circuit was able to place itself in the top 5 with three participants: AndSol (5th), StiKle (4th) and AleKle (1st) – a great team result, which is not significantly marred by the World Cup ass-place for BruSta.
Game Results
15 participants in this world cup
| Rank | Name | World region | FLADUB | World ranking position | Match date | Venue |
| --- | --- | --- | --- | --- | --- | --- |
| 1 | GM Alex Klee | | 1372 | 3 | 27.12.2020 | Ettingen |
| 2 | Sigrún Scheving Aas | | 1311 | 41 | 29.12.2020 | Arendal |
| 3 | Markus Fleischer | | 1310 | 33 | 31.12.2020 | Garbsen |
| 4 | Stina Klee | | 1209 | 4 | 27.12.2020 | Ettingen |
| 5 | Andrea Solari | | 1195 | 18 | 27.12.2020 | Ettingen |
| 6 | Vidar Aas | | 1065 | 24 | 29.12.2020 | Arendal |
| 7 | Guðný Ósk Scheving | | 975 | 27 | 29.12.2020 | Arendal |
| 8 | Anita Rislå | | 961 | 0 | 29.12.2020 | Arendal |
| 9 | Robert Neumann | | 929 | 30 | 31.12.2020 | Garbsen |
| 10 | Benn Johan Rislå | | 612 | 36 | 29.12.2020 | Arendal |
| 11 | Heike Strahler | | 532 | 37 | 31.12.2020 | Garbsen |
| 12 | Tabea Neumann | | 527 | 20 | 31.12.2020 | Garbsen |
| 13 | Christine Akeret | | 479 | 0 | 27.12.2020 | Ettingen |
| 14 | Manuela Neumann | | 432 | 25 | 31.12.2020 | Garbsen |
| 15 | Bruno Staub | | 195 | 42 | 27.12.2020 | Ettingen |
Rank
Name
World region
FLADUB
World ranking position
Match date
Venue
1
GM Alex Klee


1372
3
27.12.2020
Ettingen
2
Sigrún Scheving Aas


1311
41
29.12.2020
Arendal
3
Markus Fleischer


1310
33
31.12.2020
Garbsen
4
Stina Klee


1209
4
27.12.2020
Ettingen
5
Andrea Solari


1195
18
27.12.2020
Ettingen
6
Vidar Aas


1065
24
29.12.2020
Arendal
7
Guðný Ósk Scheving


975
27
29.12.2020
Arendal
8
Anita Rislå


961
0
29.12.2020
Arendal
9
Robert Neumann


929
30
31.12.2020
Garbsen
10
Benn Johan Rislå


612
36
29.12.2020
Arendal
11
Heike Strahler


532
37
31.12.2020
Garbsen
12
Tabea Neumann


527
20
31.12.2020
Garbsen
13
Christine Akeret


479
0
27.12.2020
Ettingen
14
Manuela Neumann


432
25
31.12.2020
Garbsen
15
Bruno Staub


195
42
27.12.2020
Ettingen